What is 360° Video?
360° video is a video in which you, the user, controls the perspective of the screen as the video plays. In other words, you now control the horizontal. You control the vertical. Typically the view starts out facing the producer's desired point of focus, but from there it's your choice which direction to look.
Take a look around DVS's office via this 360° video!  Mobile device users will need to copy this link: https://youtu.be/AlTWiM9kZxA and open the video in the YouTube app on your device. Unfortunately mobile browsers do not currently support 360° features via the below embedded YouTube player.

How are 360° videos made?
360° video is created in three major steps. 1.) Record: a video camera system records the footage. 2.) Stitch: the resulting six to eighteen video streams are processed into a single spherical video file. 3.) Publish: a single video file is published to a website or imported into an app on your smartphone or tablet.
How is 360° video recorded?
360° video is recorded using multiple lenses, simultaneously recording every angle (360°) of a scene. Systems range from 1 to 4 lens consumer level units like the 360fly,  Samsung Gear 360, and the Bublcam that can be purchased at BestBuy for hundreds of dollars. These are great for having fun and impressing your friends, but provide image quality that won't cut it for professional use.
The next step up are professional systems that employ 6 lenses and professional level imaging units. These systems can be all-in-one systems like the Sphere 2 or DIY systems built with six separate cameras mounted into specialized rigs such as the new GoPro Omni. Costing thousands of dollars, these systems are the current stock and trade of professionals. At DVS we are currently shooting with a custom GoPro style 6-camera rig, and are awaiting arrival of the soon-to-be-released Sphere 2 camera.
The advantage to these systems is the professional level video quality that is produced. Additionally, systems like the Sphere 2 provide remote camera controls and the ability to live-stream your 360° video to YouTube!
The current pinnacle of 360° camera systems employs 8 to 17 lenses. These systems will set you back anywhere from $15,000 to $60,000. To learn more, follow the links and try to imagine justifying the ROI on purchasing one of these bad boys: GoPro Odyssey, Facebook Surround 360, and the Nokia OZO.
How is 360° video processed?
The processing of the multiple video streams is called stitching. It is the process of combining the individual video files recorded into a single 360° video file. This process is either handled onboard the camera unit itself or externally using specialized software. For multiple camera rig systems, each individual camera unit records its video to a microSD card. Once the recording is completed, the microSD cards are removed from the cameras and loaded onto a computer. On the computer, each of the individual camera files is imported into a software program that will stitch the individual videos into one 360° video file. The current front-runner stitching program is the Kolor Autopano Video application.
For a professional level tool like this you will need to be ready to shell out around $800 and have a computer system robust enough to process sumo-sized video files.
How can 360° video be published and viewed?
360° video is published and viewed in two primary ways. 1.) In a video viewer window on a website. 2.) On your smartphone or tablet using a 360° video app.
The typical fist encounter with 360° video for people is in YouTube or Facebook. These sites are pioneers in the field and are heavily promoting 360° video. Like these pioneers, you to can feature 360° video on your personal or corporate website. The simplest way is to upload your 360° video to your own YouTube account, right-click on the video player screen, select "copy embed code", and insert that code into your webpage.
If embedding the YouTube video player is not an option for your site, then their are other viewer options such as JW Player and krpano. If you really like control and configuring things at the code level then krpano is likely the one for you.
In my opinion, the best way to view your newly created 360° video is in an app on your smartphone. There are now dozens of 360° video apps available for iOS and Android phones. Simply type 360 video in the App Store or Google Play. A few of my favorites for iPhone are: Kolor Eyes 360 Player and the Littlestar app. The advantage of these apps is the ability to upload your own 360° videos to the app for viewing. To simply enjoy content produced by others, I suggest the Vrse – Virtual Reality app and the GoPro VR app.
One major advantage to viewing 360° video in a smartphone app is the ability to set the playback for VR mode and insert your phone into a physical VR headset. Headset viewers are the pinnacle of 360° video viewing as they immerse you in the scene and allow you to turn and spin your entire body to explore the experience.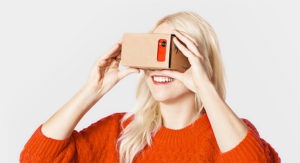 A few of the leading headset viewers are: Google Cardboard, Samsung Gear VR, and the Zeiss VR One.  The Google Cardboard viewer is the entry level viewer and can be purchased from numerous online stores for around $20, or you can download the template file from Google and make it your own DIY project. The Samsung Gear VR headset is affordable at $99 but you do have to have a Samsung phone to use with it. As an alternative, the Zeiss VR One comes in at around $120 and can fit multiple phone brands.
Learn more about 360° video
To learn how 360° video can benefit your business, give us a call. We will be happy to listen and explain how 360° video can be used to effectively deliver your message and move people to action.