Video and Animation
In a world with video and animation, the possibilities are endless.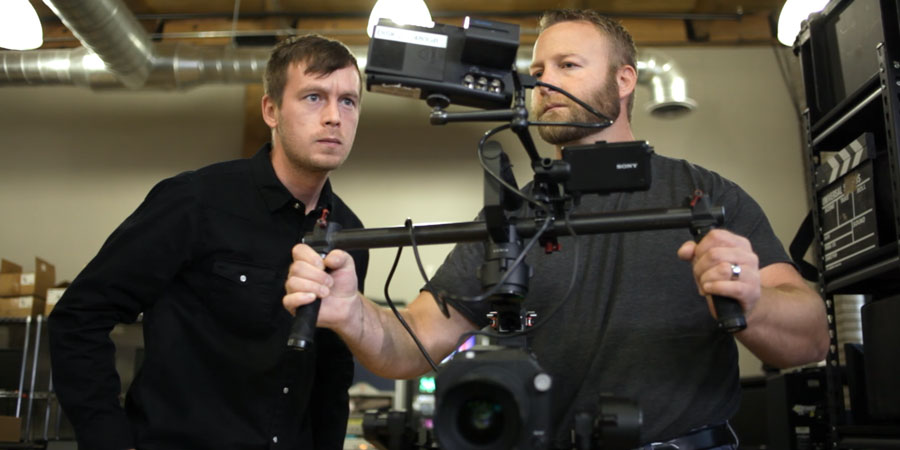 What is Video?
Video is one of the most common channels of communication on any digital platform today. In fact, chances are if you have a smartphone of any kind, you watch and interact with multiple videos daily. The standard definition of video is; the recording and reproducing of moving visual images.

Of course, there are many types of video, along with even more reasons behind making them. At DVS, we specialize in a wide variety of video productions, mostly focusing on commercial video. Now, when we say commercial, we're not only talking about the advertisements you see before a YouTube video or during the Super Bowl (although we make those too). What we mean is any video that focuses on an organization's product, service, or message—created for a specific target audience. Target audiences can vary from extremely broad to very narrowly focused groups such as employees only.
DVS Video Services
Corporate
Marketing
Training
Testimonial
Trade Show
Instructional
Commercials
PSA's
Aerial Video
Motion Graphics
Live Video Streaming
Sizzle Reels
Animation
What is Animation?
The standard definition for animation is the manipulation of objects or pictures to create the illusion that they are moving. Remember, there are two types of animation: 2D and 3D.
2D Animation
Modern 2D Animation consists of drawings made either on a computer or by hand which have been manipulated to move with computer software. 2D Animation is distinct from Motion Graphics as it focuses on a "character" to tell a story, as opposed to only visualizing a display of shape and color.
3D Animation
3D animation is the digital drawing of an object, making it appear to be three-dimensional. Chances are you that you have seen a 3D animation today. They are the heart and soul of modern video games, but their possibilities do not stop there. 3D animations can showcase photo-realistic imagery, highlight product features, and can even be abstract, portraying an original message in an animated world.
What is the significance of Video and Animation?
The value of using video or animation will vary greatly depending on the organization and message behind it. However, there are a few essential items that apply to any video or animation piece.
First, with modern technology, there are endless possibilities for content that a video can contain. With the right creativity and skill, which we have at DVS, a video or animation project can bring a world of imagination to life.
Next, video is one of the most captivating forms of communication, which allow for an organization to create a memorable vehicle for any message. Most people are visual learners, so providing information that users see and watch, creates a greater opportunity and higher probability that your message will be remembered.
Lastly, speaking from a digital marketing point of view, video is king when it comes to the online universe. From SEO, social media, and any other online platform, if you are using video or animation—your message will be found, shared, and remembered much more easily.
The DVS Video Production Process
Keep in mind, we meet and communicate with you almost every step of the way to ensure that our efforts are in sync with your desires, strategy, and brand message.
1

Kickoff

We start by listening. We talk with you to discover what objectives we need to accomplish and who you need to reach with your project.
2

Research

Next, we research on our end. We evaluate our goals and target audience to help us better identify and develop the most effective strategy and content for your project.
3

Pitch

Here we reconnect with you, showing you our ideas and potential direction for your video or animation. We use style-samples and other visuals, presenting to you what our final project could be. Pitches can be revised when necessary. Once all parties are on the same page, the scope and budget for the project are defined.
4

Pre-Production

Now that we've established the groundwork, we gauge precisely what we need from start to finish for the project. We develop our script and cast, then identify the crew and equipment we need.
5

Production

Lights, camera, action! It's time to get to work—using the assets we've collected and developed to start creating the video or animation.
6

Post-Production

Here we review the footage we've collected — editing, cutting, and splicing it together, working towards our final production.
7

Review

Think of this step like a private premier. We unveil our final piece to you, collaborating with you to ensure the project is perfect. If we find any wanted changes or edits, we go back to the studio. Keep in mind, our clients receive an unlimited amount of revisions — we don't stop until it is perfect!
8

Delivery

Lastly, we deliver our final video file to you. We make sure the file is formatted to work with any platform you plan to use, usually an encoded MP4. We'll also consult on video delivery strategy and methods.