Trade Show Messaging & Lead Generation – Stiles
Stiles Machinery makes woodworking machines of all kinds. Everything from individual board cutters to CNC machines to entire automated factory floors. For a manufacturer like them, trade shows are an important way to network with large clients and scare up sales leads. Making a splash and leaving a positive impression go a long way, and there are plenty of competitors vying for the same clientele.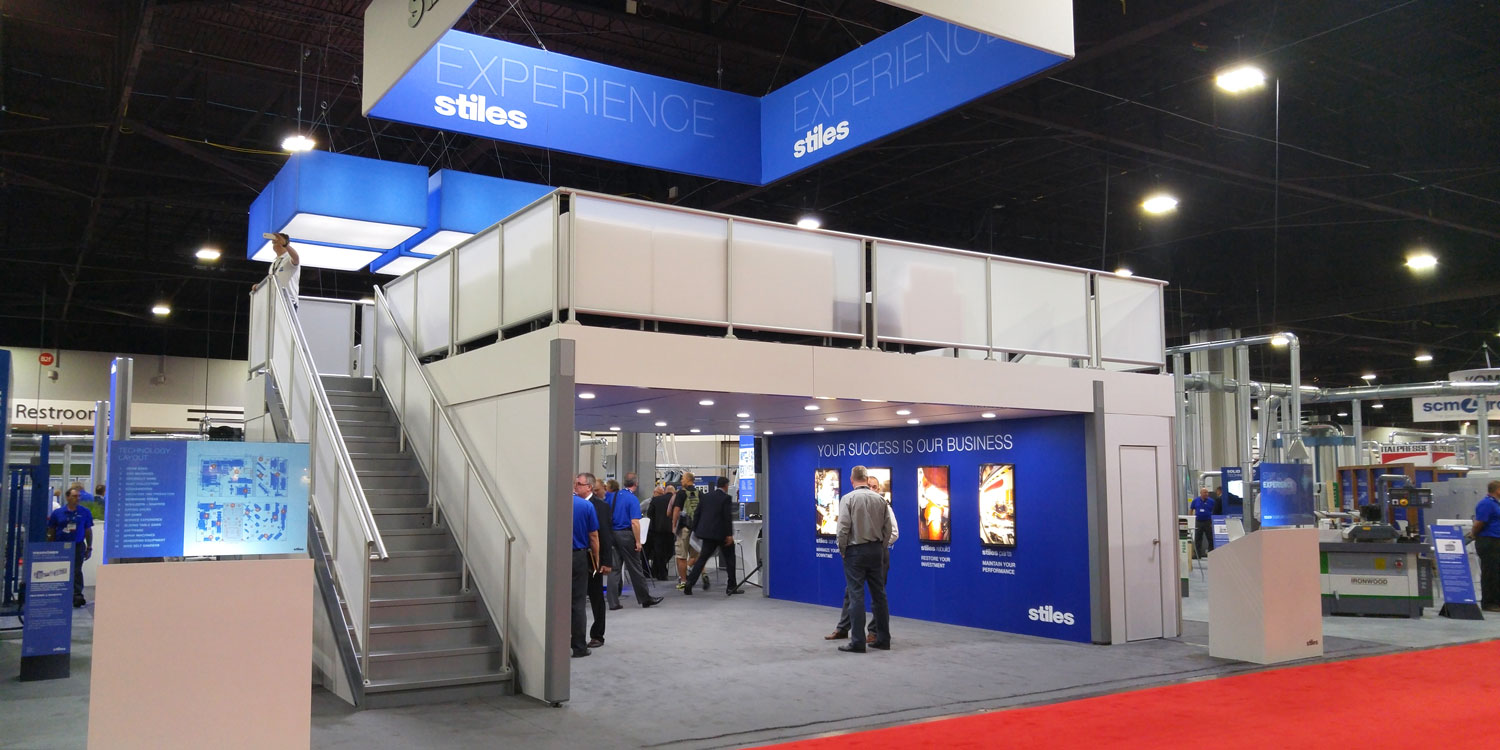 In an effort to try and reach more of the small to medium-sized businesses and manufacturers, Stiles enlisted our services to help create messaging, graphics, and video assets to help reach out to these potential customers. We met this challenge head-on, providing both the strategy and tactics for a 10,000-square foot booth that not only wowed their customers but generated record sales leads as well.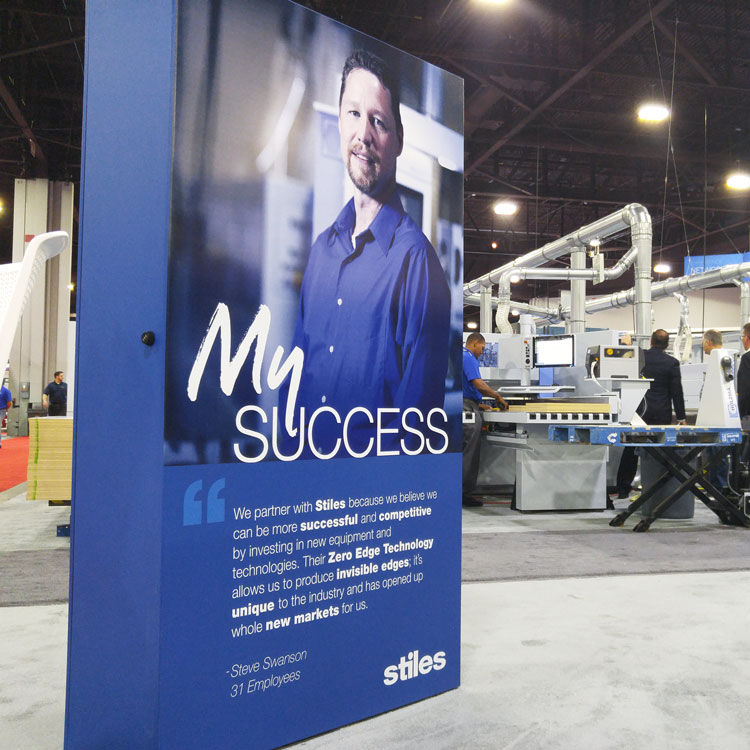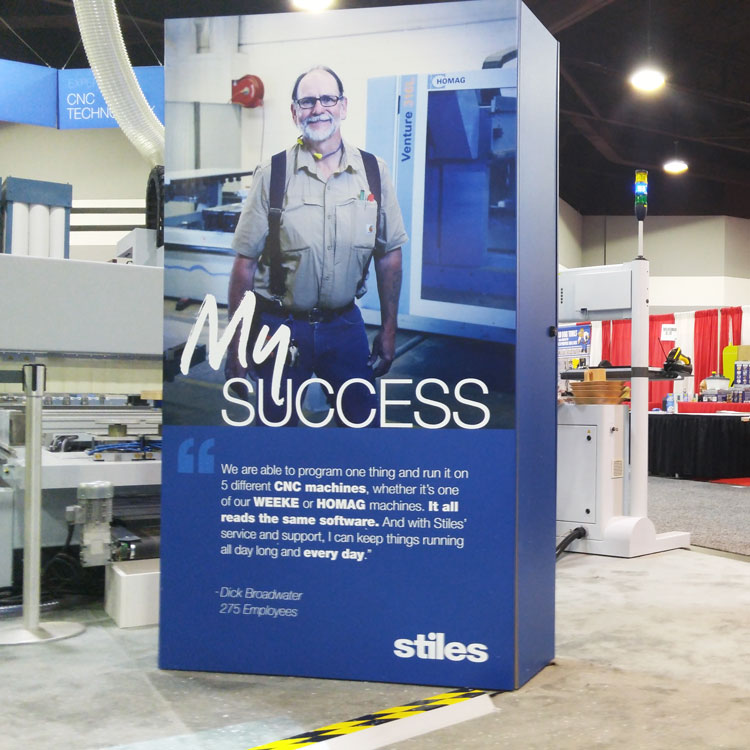 One of the key objective Stiles had for their 2016 Woodworkers International Expo in Atlanta was to make a stronger connection with small to medium sized shops and manufacturers. Working with their internal sales and marketing experts, we learned that for years the international woodworking machine manufacturers had focused so much on cutting edge technology that they were talking past the smaller business owners. These customers didn't speak in terms of warehouse automation, networked machinery, or corporate business strategies; they spoke of employees as family, of wanting reliability in their tools, of building trust in their suppliers.
More...
We wanted to leverage the advantages Stiles had over their international competition. Instead of talking in tech jargon about performance and output, we devised a strategy to speak to these smaller businesses that started with "why."
We made a list of some of Stiles' most loyal small business clients and came to their workshops to do interviews and photoshoots. Not staged, flashy product shots but real honest pictures of actual clients, talking about what they value most about their relationship with Stiles. We then proposed a messaging plan that leveraged Stiles' existing "Your Success is Our Business" tagline, pairing the new photography with a stylized "My Success" tagline. These visuals helped make a more personal connection with the Stiles brand.
Video
An important asset at trade shows is video. Part of the booth design revolved around video kiosks, which ran product overview videos which our video team shot and edited. These strategically placed videos added a sense of movement and energy to the booth, as well as providing valuable details about the Stiles product offerings.
Beyond traditional video, we produced three 360 degree videos, shot on location at Stiles' facilities. We then had Google Cardboard viewers custom printed with Stiles branding to be given away at the show. In the center of the booth's lounge area was a table where people could walk up, pick up a viewer and phone preloaded with videos, and see either the 24-hour parts warehouse, the high-tech call center, or the Stiles University training center. These simple but novel devices caused quite a buzz throughout the booth with people handing out Stiles branded viewers as takeaways.
Interactive Kiosks
Rounding out the booth experience were interactive kiosks. We had 6 product kiosks which were touchscreen computers, placed at stations throughout the booth, where customers could sit down and explore the product offerings in a low-pressure setting. The key feature of these product kiosks was the ability for users to pull up tech specs, photos, and videos of each Stiles machine and email themselves their own info packet. Doing this not only eliminated costly printing services, but allowed Stiles to track and qualify leads by collecting email addresses and information on product searches.
In addition to the product kiosks, we prototyped and manufactured two touchscreen glass panel kiosks that were positioned at the entrance of the booth. These interactive displays feature a simple white column with a panel of glass on which the program is projected. A thin, almost invisible plastic film turns the entire glass panel into a touchscreen. We used these kiosks to attract attention to the booth on the show floor and provide wayfinding maps for the Stiles booth.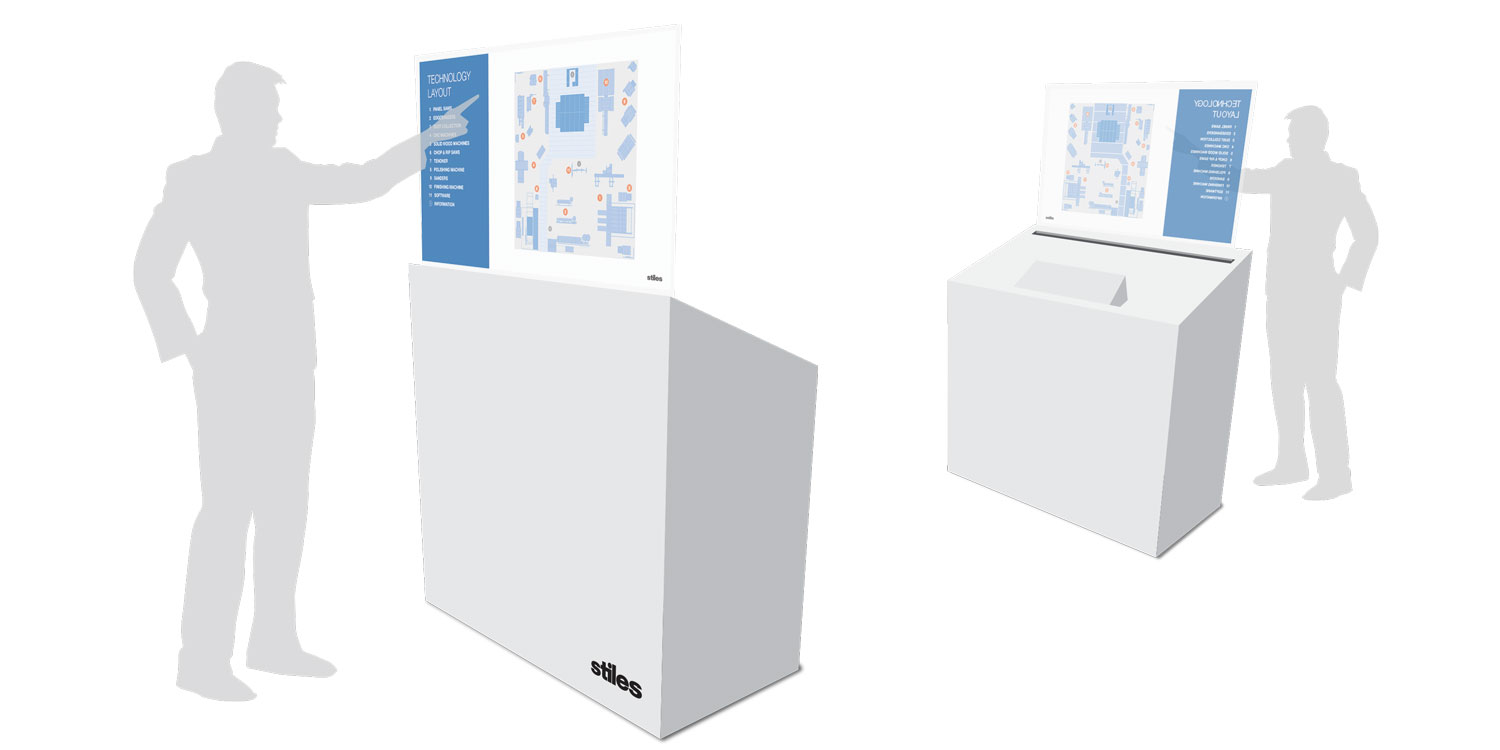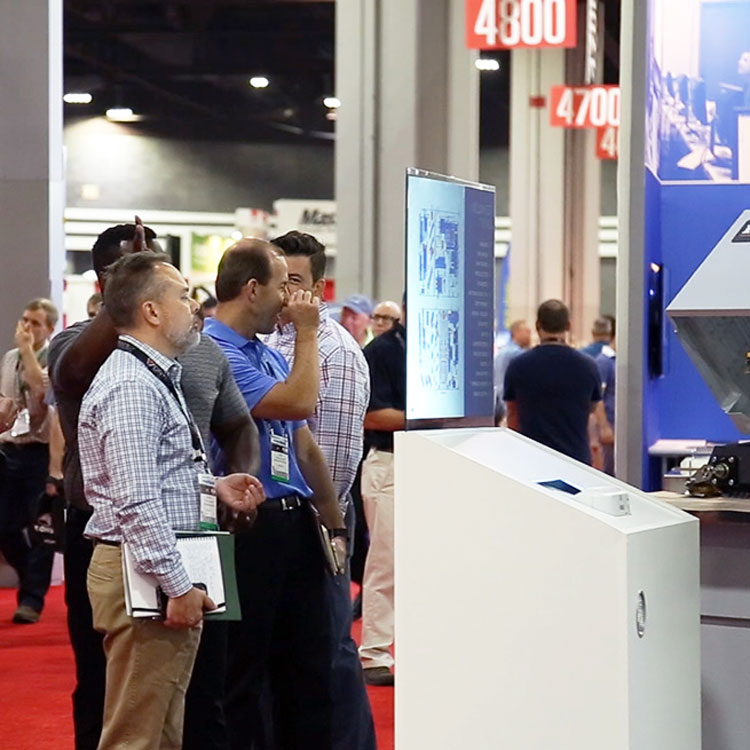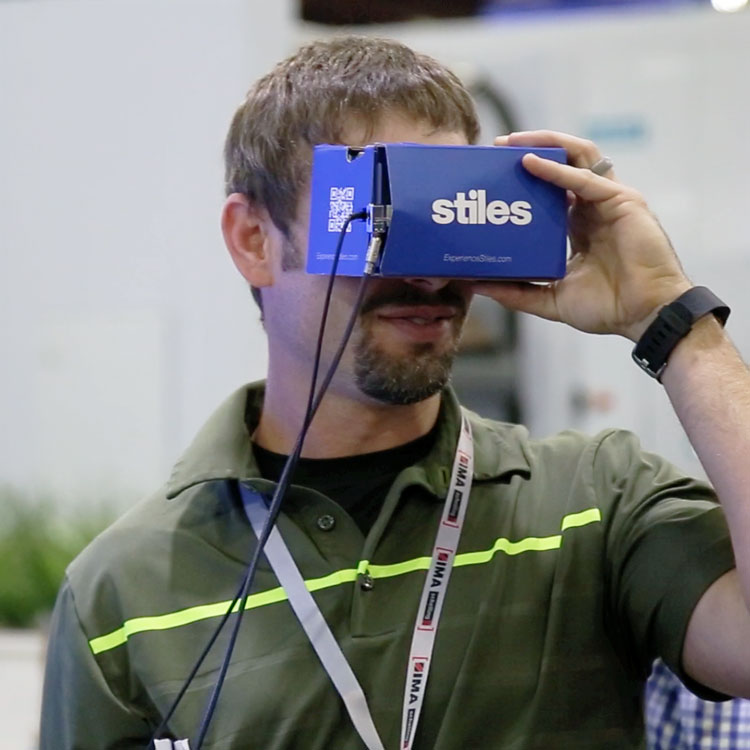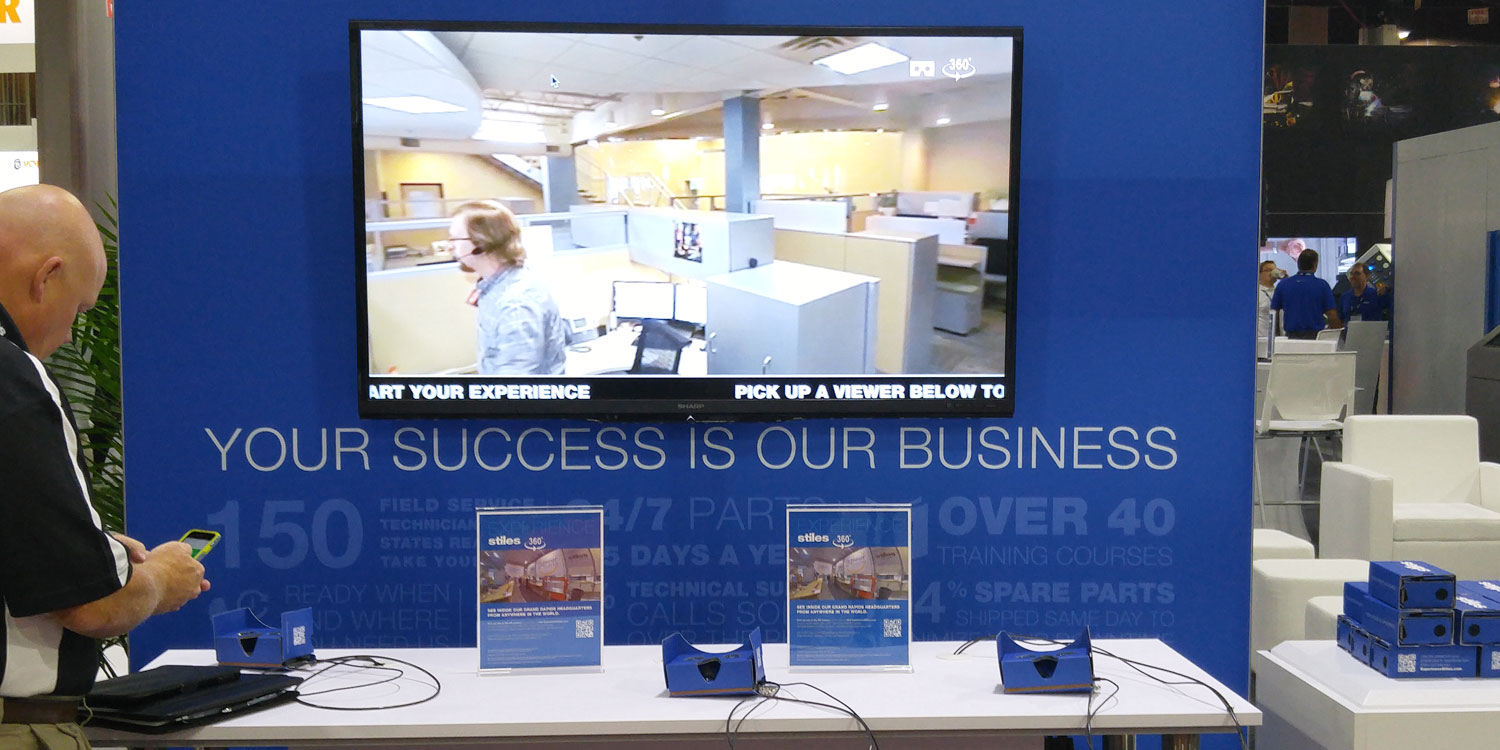 Results
Compiling data from both Stiles' internal CRM tools and our customized kiosk software, we were able to get a detailed snapshot of the efficacy of our tactics and strategy.
Sales people in the booth were able to gather hundreds more leads than in years past due to our digital information kiosks, increasing their total leads generated by 65% over their previous IWF show. Such increases helped lead Stiles to increase sales during the 4-day show by over 29%. After the show we were able to track steady traffic to the 360 Degree video microsite which was accessible from a QR code printed on the cardboard 360 viewers. This gave insight into how much reach the giveaways had in the months after the show.