Is Your Marketing Strategy Helping You Reach EOS Goals?

16

min read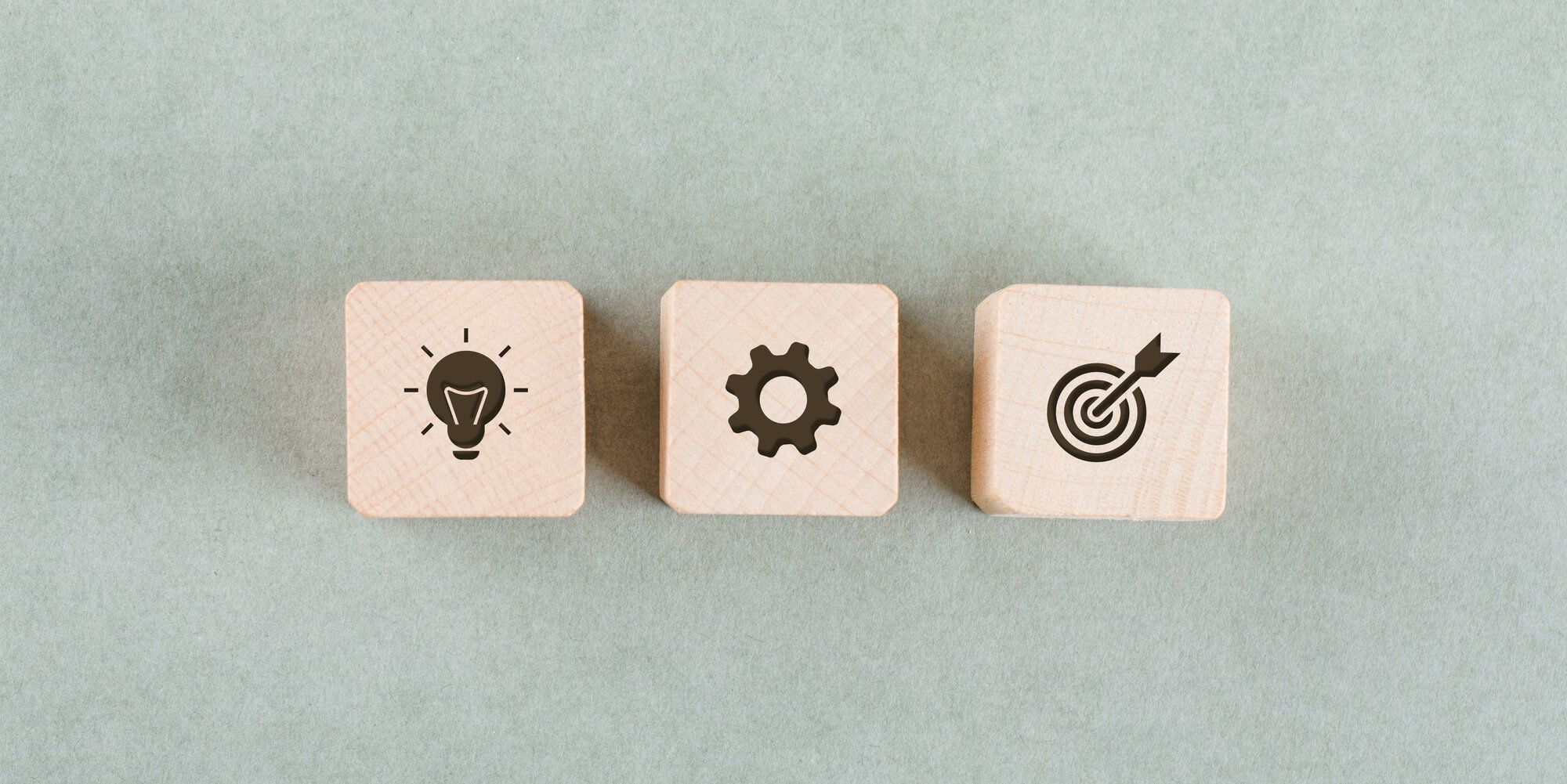 The Entrepreneurial Operating System (EOS) is a set of "simple concepts and practical tools used by more than 170,000+ companies around the world to clarify, simplify, and achieve their vision" (eosworldwide.com).
Companies that "run" on EOS have a framework to make everyday challenges easier to manage and ensure everyone is working toward the same goals. DVS started implementing EOS in 2018, and we work with a few clients who also run on the EOS model.
But we've noticed something missing.
Even though there are plenty of blogs and videos talking about the benefits of EOS, content focused on practical ways to incorporate the EOS into your marketing strategy is scarce.
We're here to change that.
As a marketing and advertising agency that runs on EOS, we'd like to share our unique perspective on how to connect your EOS goals to your marketing efforts. Even if you don't work with us (yet!), here are some questions you should ask your marketing agency or in-house marketing team to see if your strategy supports your EOS goals.
Are We Reaching Our Target Market?
Defining your Target Market is part of the Marketing Strategy Section of the Vision Traction Organizer (V/TO).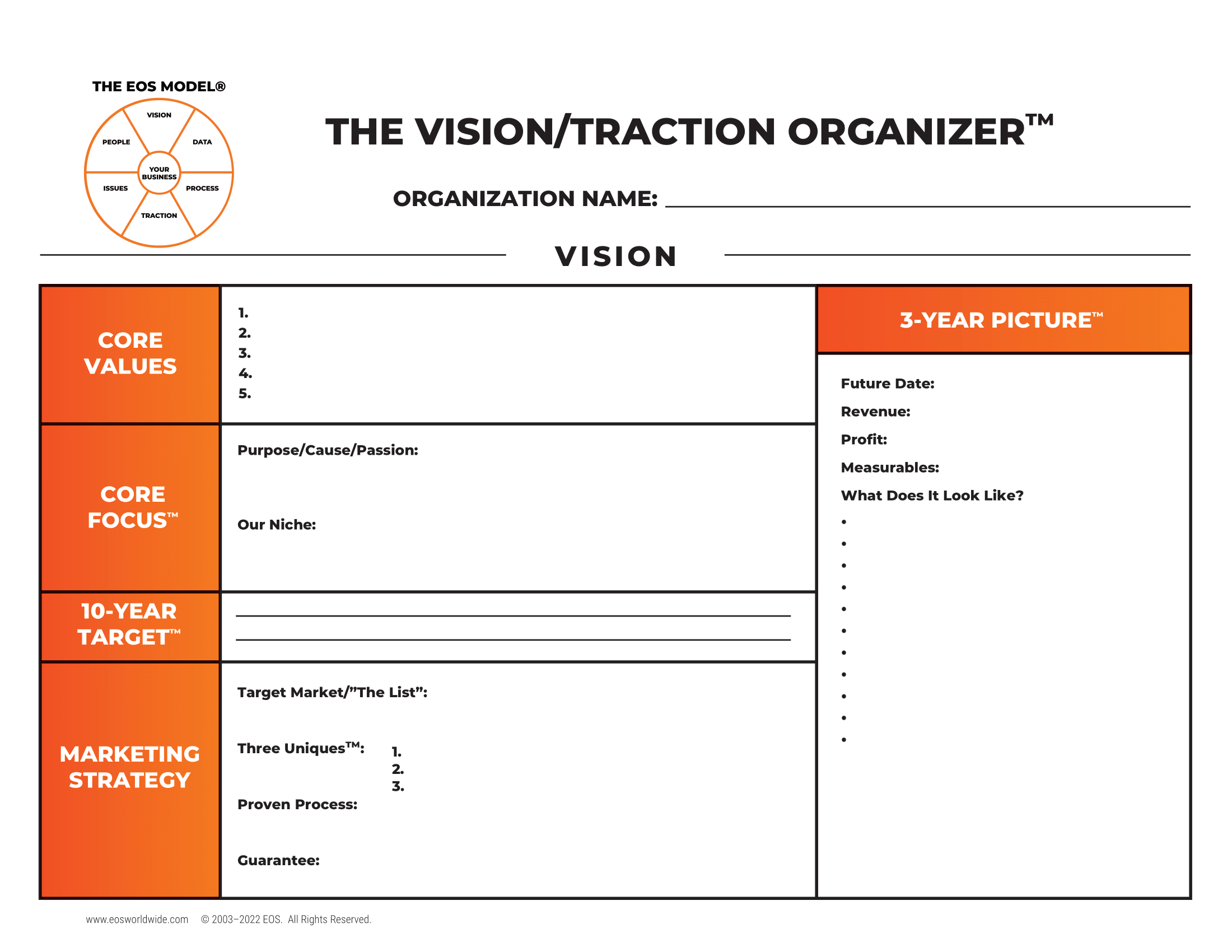 The main goal of identifying your Target Market is to focus your energy on these ideal customers and spend less time pursuing leads who aren't a good fit for your organization.
A general rundown of your target market for the V/TO document is fine, but your full marketing communications plan should map out exactly who your target audience is and how you will reach them.
For example, your plan might include personas for each of your audience segments and tactics for reaching them with your message. The more specific you can be, the better.
Your marketing team (in-house or outside agency) can use specifics to set up audience targeting. All major digital ad platforms have targeting options to help you reach specific kinds of people. Targeting your audience organically (unpaid social and search engine results) is a bit harder, but it can still be done by choosing the right social media platforms and creating content that solves the problems specific to your audience.
How will you know if your message is truly reaching your Target Market? The quality of your leads will go up. Targeting your specific audience means more of your ideal customers will be calling, requesting quotes, or reaching out to you.
Are Our Three Uniques Reflected in Key Messaging?
Your "Three Uniques" should describe what sets you apart from your competitors and should be reflected in the messaging used to reach your audience. The best way to convey your Three Uniques will depend on your business and your audience. Take a closer look at your website, blog, or digital advertising. Can you see your Three Uniques reflected in the way you present your organization online? What about physical print pieces or trade show materials?
One of the ways we feature our Three Uniques is by highlighting them on our homepage. We've also tried to find ways to show (not just tell) potential clients how our uniques help them. For example, we featured our "passionate polymath people" in a blog about Marketing Trends for Small & Medium-Sized Businesses in 2022. Our team had space to talk about marketing trends they were excited about and gave us a chance to showcase our expertise.
It can be helpful to take your Three Uniques and document one or two key messages for every segment of your audience. This way, your marketing team has a foundation to build future campaigns while keeping your messaging consistent across the brand.
Do Marketing KPIs Align with Our EOS Scorecard?
In the world of EOS, a Scorecard "contains a handful of numbers that tell you how your company or department is doing." The Scorecard isn't directly a part of the V/TO but can help you track progress toward your Measurables in the 3-Year Picture.
The key performance indicators (KPIs) of your marketing efforts (and how they relate to big picture goals) should be reflected in your Scorecard. For example, if your company has a specific revenue goal listed in your 3-Year Picture, a key metric for your marketing team could be how many marketing-qualified leads were nurtured into sales-qualified leads. Metrics like ad impressions or social media followers wouldn't be as relevant or as helpful.
Take a closer look at the goals listed in your 3-Year picture and see how well your marketing KPIs align. You may have to make some adjustments, but in the end, you'll have a meaningful metric that quickly communicates your progress toward specific EOS goals.
Reach Your Goals with an EOS Agency Like DVS
Your business is unique, and that means your marketing strategy should also be one-of-a-kind. A great marketing communications plan will help you reach EOS goals by identifying how you will reach audiences, what you will say, and how you will measure success. Without a plan, you're just another company with something to sell.
Want tailored recommendations on how your marketing strategy can support your EOS goals? Drop us a line, we're happy to help!