We were hired to help Set Free Ministries re-brand themselves after merging with another non-profit. Historically they had been focused on counseling services and overseas mission work, but were unsure how to present the addition of orphan care to their organization.
Initially the proposal was for three separate identities with similar tone that related to each other, but after getting to know the organization a bit better we focused on one concept that was simple and less focused on the literal functions of each division.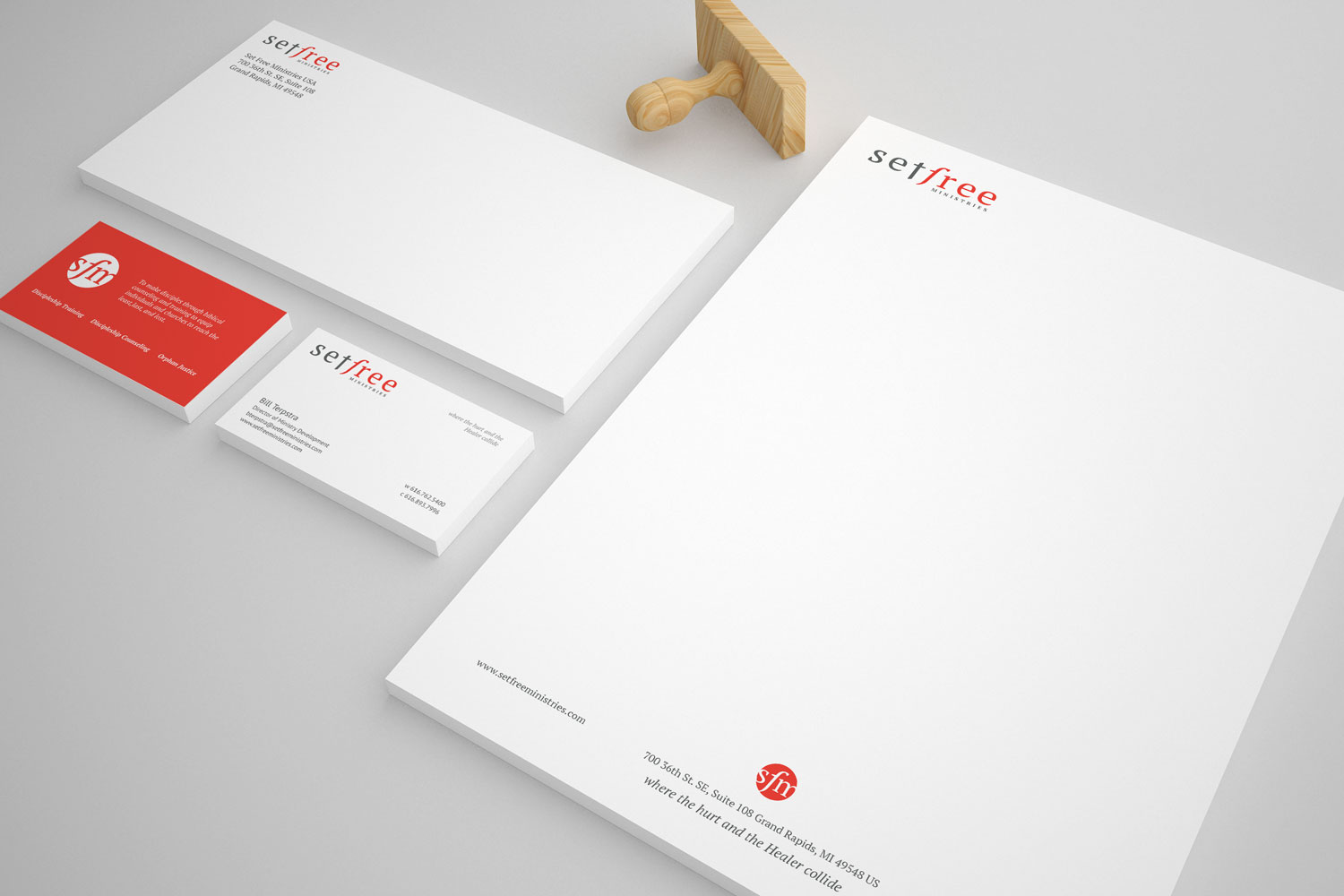 The idea behind the logo was to portray a sense that this is an organization for social justice, providing emergency counseling for those struggling with emotional crises and monetary support for children and under-served communities overseas. We also wanted to convey the sense of freedom from both emotional and physical bonds. The goal was to convey a sense of strength but also humility and service, to seem inviting and trustworthy without pretense.
Project Details
Working through logo variations, we landed on a serif typeface to work off of. We chose PT Serif because of its strong, confident lines, prominent serifs, and it's a free Google font which makes fiscal sense for a non-profit on a tight budget. Its characteristics sit somewhere between geometric and humanist styles, and its modern look has nods to a lot of classic Dutch typefaces. Opening up the tracking between letters gave it a bit more formailty, and the strong upward movement of the italic "f" gives an aesthetic break in the words and a slight sense of rising up. Removing the right arm of the letter enhances that feeling, and tweaking the letter "t" to represent a cross keeps the balance of the typeface consistent while communicating the faith-based nature of the organization.
In applications the branding has a clean, open feel. Using lots of white-space and bold blocks of color makes for a very honest and open feeling. Imagery is clear and focus' on real people as opposed to staged or stock photography.