Hospice of Michigan – Triage App Design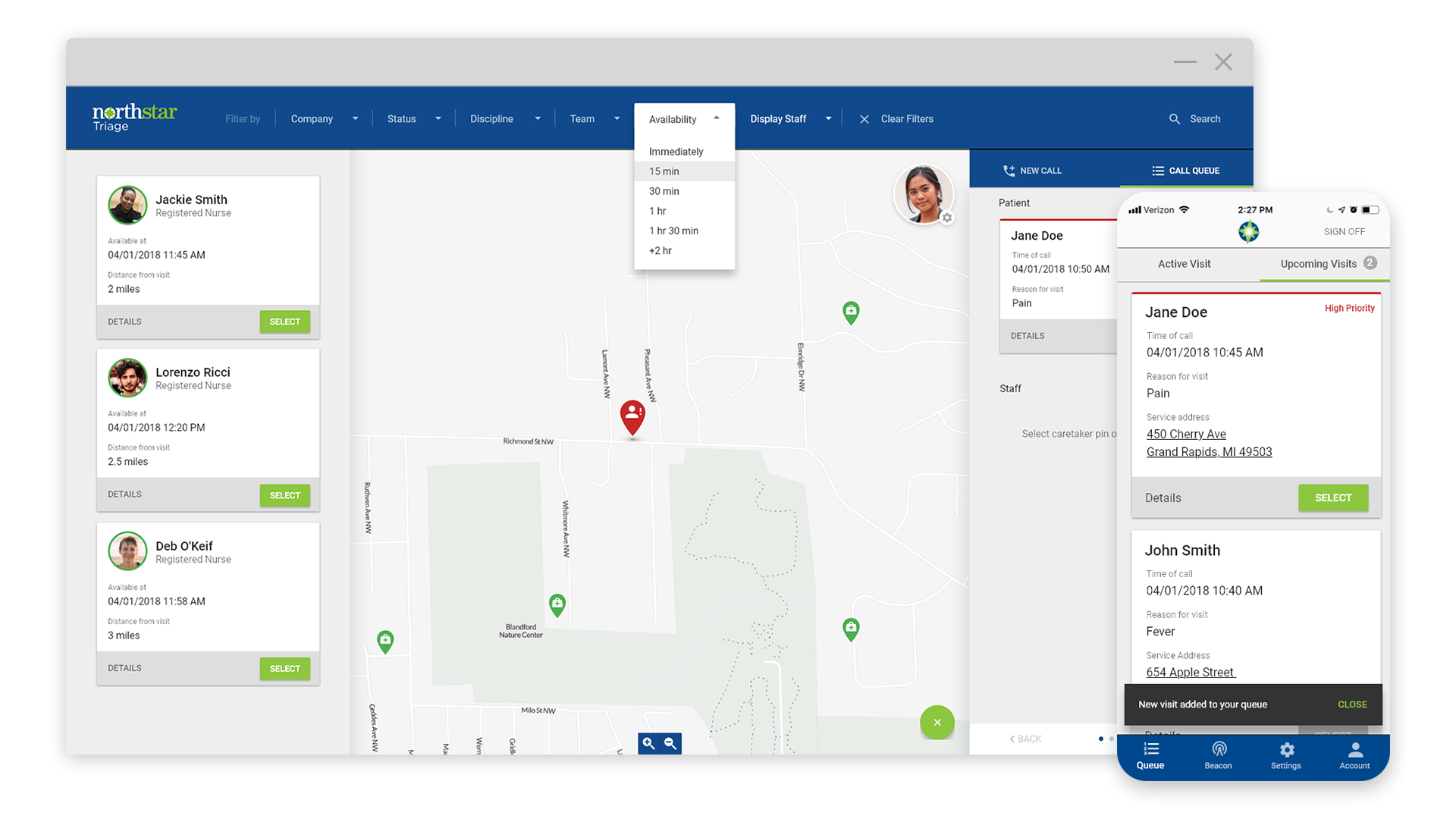 Hospice of Michigan is the largest hospice provider in the entire state of Michigan and among the largest recognized 501c3 non-profit advanced illness management organizations in the nation. They came to DVS with the need for a user interface (UI) and promotional video for a new hospice triage dispatch app. The application would help dispatchers and caretakers communicate, send reports, and schedule visits efficiently for patients in hospice care. The home visits from a trained caretaker are less disruptive, quicker, and more cost effective than a difficult trip to a hospital or ER. Our goal was to provide a highly usable UI that would speed communication and make efficient use of company resources to provide better care for their clients.
An Intuitive User Interface
Working with the Hospice of Michigan team of developers, we started with the basics of how their staff currently dealt with dispatching caretakers. We discovered their process involved a nebulous web of paper records, phone calls and spreadsheets. It was important for us to consider take into consideration the current desire path dispatchers had discovered through years of work. Our challenge was to design an experience that would be more efficient while still keeping the aspects of the previous methods that worked.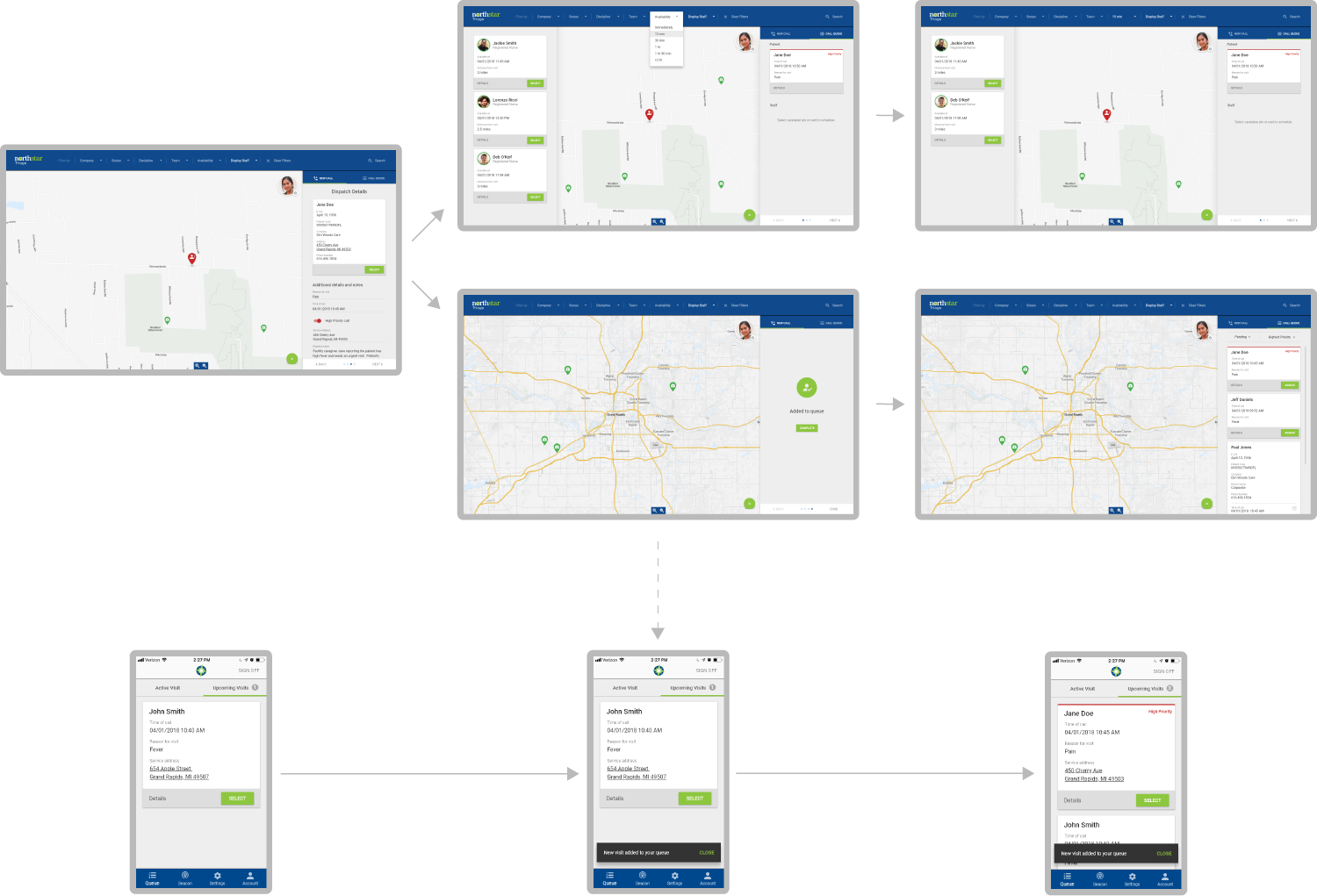 We started out mapping each possible progression of screens including: dispatcher log in, care requests, caretaker location, assignment, task overview, and many more. Caretakers using mobile devices received the same level of site mapping. Working with the client, we layout required information and forms on screens and built interactive prototypes to walk them through the experience on native devices. The result was a final product they felt very comfortable using and was identical to designs they interacted with in the design phase.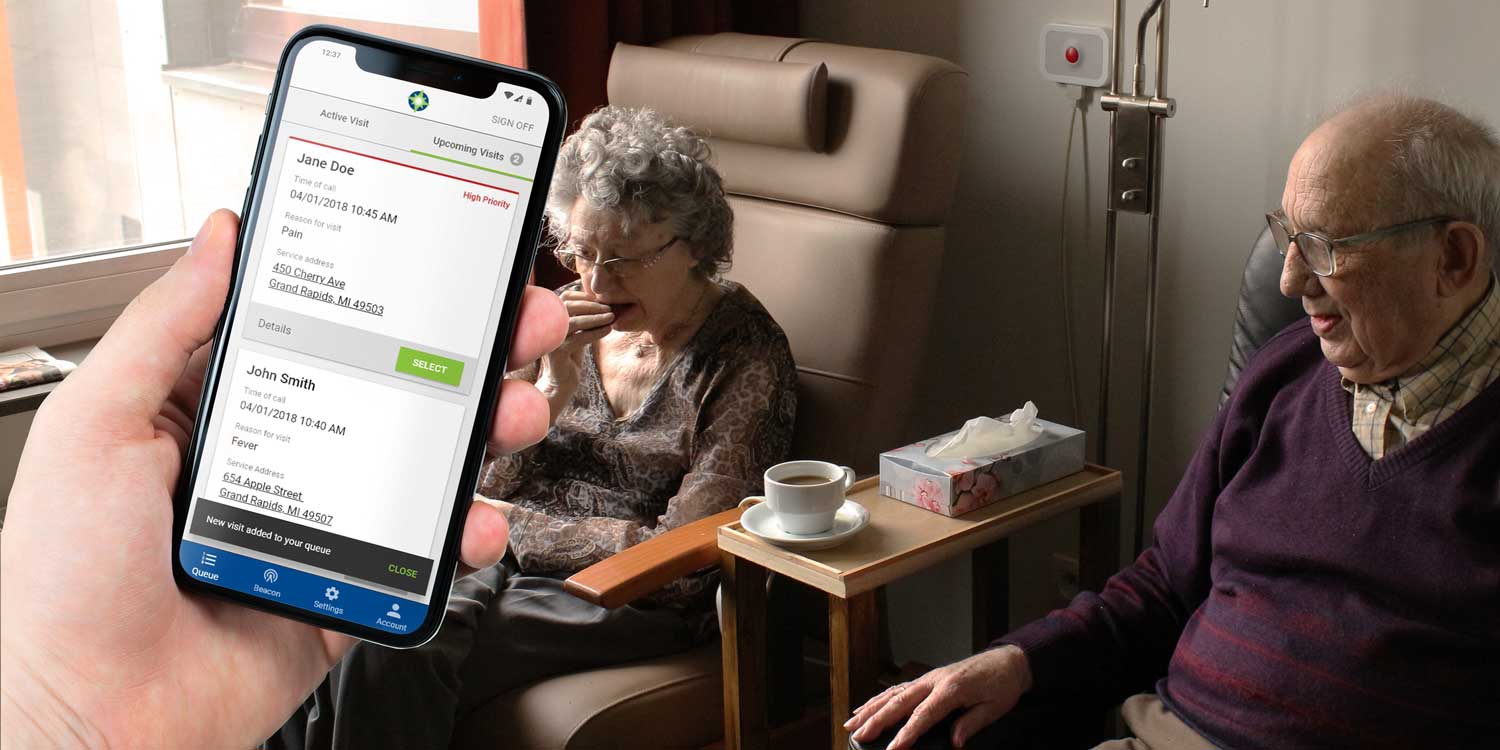 What we provided them at the completion of the project was both UI designs for a complex web app, and a design system capable of expansion. The developers were supplied with packaged assets to fully build the web app and a framework for eventual growth. We knew from the beginning that this application was going to be a living thing, changing as the needs of the client grew or shifted. Using Google's Material Design as our framework allowed us to quickly build on a proven system, customize it to our branding needs, and give the developers a clear path going forward.
The second part of this project involved creating an impactful sales tool for the Hospice of Michigan team for an upcoming trade show. They needed a concise way to demonstrate the effectiveness of this triage dispatch tool. What we created for them was a looping video for their booth on the tradeshow floor. Sound and a voiceover would not be possible so narrative overlays and text were needed to walk viewers through the experience. The video shows each step of the process—including placing, responding to, and resolving new calls for help. This tool is a unique selling point for Hospice of Michigan and has helped them grow their business and improve service to their many clients.